Extra large Business Update - December 2020 / January 2021
by Bart van de Kooij, on Jan 31, 2021 8:55:34 PM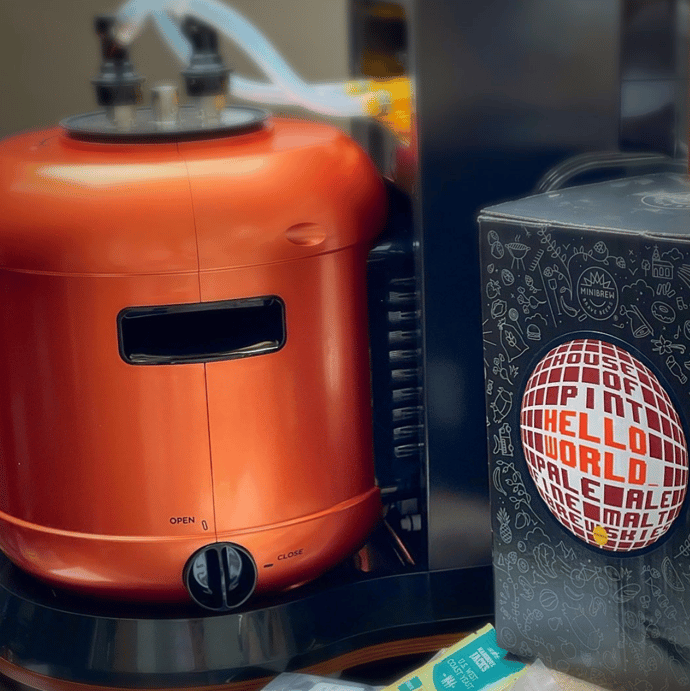 2020 was a remarkable year for MiniBrew. We sold out our first mass production (batch 1 & 2), improved our brew pack quality, launched recipe sharing for pro-subscribers in the Brewery Portal and many more things. Today, with over 826 MiniBrewers all over the world, we see the community growing and have some really great news to share with you.
First of all apologies for the radio silence in December. We know it has been a long time since we shared an update, but we've been working hard on getting all the orders of the 2nd batch out. We also have some other exciting developments that we would like to share!
Batch 3
First, we're getting ready to launch batch 3 - an updated version of the current CRAFT series in the field.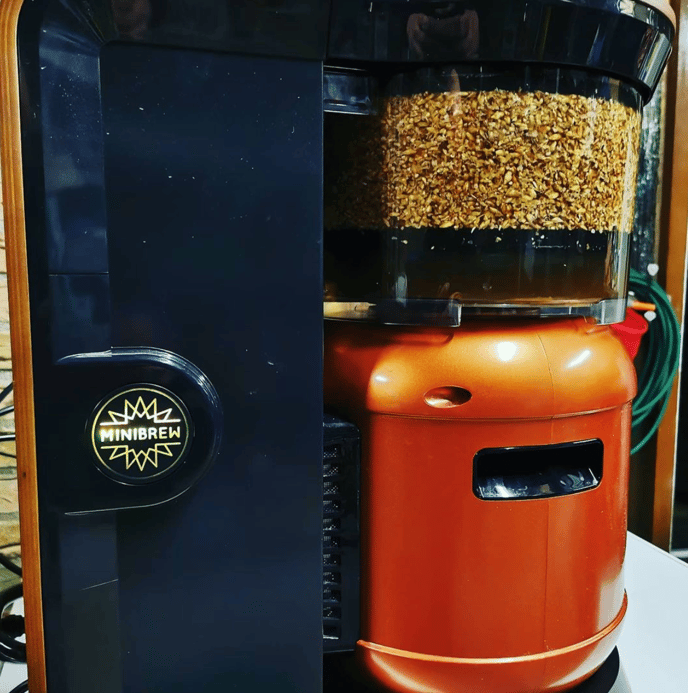 Batch 3 has all kinds of powerful new features under the hood in hardware and soon in the software.
CRAFT series specific
Improved hop Carousel movement - We've updated the hops motor and mounting. It's more resilient than ever at turning under tough conditions. So whether you like to use hops, fruit, or herbs, your beer will receive the right ingredients.
Enhanced heater / cooler connectors - reassuring a better connection between boiling the water or wort
Improved internal housing valves - making MiniBrew more robust up when different water pressures hitting the machine
Introducing Super Tritan Mash tun. It's more rigid and dishwasher friendly. Food-grade and BPA free.
Announcing pump priming - no more startup issues before brewing with this unique device.
The MiniBrew CRAFT comes with an improved box design, now combining the Smart Keg and Base station in one package!
Smart Keg specific
Introducing a two turn-lock mechanism - it becomes easy to turn the lid into the keg
Improved cooling - we redesigned the Peltier element that handles better air pressure when switching between heat and cold.
Added a new coating - which makes the keg more fluid and dust resistant and easier to clean.
Updated the power adapter casing - It's more resistant to ensure that in severe cases the power adapter will survive.
Last week we started with pre-orders. You'll be able to order Batch 3 exclusively from our store for EUR 899, which excludes courier shipping / tax. We will offer this one time promotion for the first 100 units of batch 3. We expect to deliver Batch 3 from May 2021.
Accessories
In addition our team is working on improving our MiniBrew accessories, in specific a tap with flow control. This tap makes it much easier to tap your beer with a perfectly balanced foam layer.
Upgrade from Batch 2 to 3
If you've recently ordered batch 2 and have not received it yet (mostly caused by delivery issues, scroll down to see why), we want to offer you an upgrade to the next available system. Please let us know by contacting us via hello@minibrew.io - please refer your order number in the email and what kind of upgrade you want.
Compatible between batch 1,2,3
In case you decide to get a new CRAFT your Smart Kegs from Batch 1 and 2 work on Batch 3. As well the other way around. Batch 3 Smart Kegs works on Batch 1 or 2 base station.
We're super excited to bring this new CRAFT series to life. We expect 2021 will be phenomenal as we continue to improve our platform and listen to your feedback.
Customer Support
We've been working hard the last two months to improve the MiniBrew experience and platform. But our community has created some wonderful tools too since we began shipping MiniBrew Mass Production last year. The MiniBrew community created their own Facebook group, wiki fandom and recipe user base via www.minibrewers.com
We've been in contact with the Facebook admins and moderators of the Unofficial Community. They are incredibly proud that their group of Minibrewers grew to 600+ members. In the long term they hope that the Facebook Unofficial Community is all about inspiration and new creation of beer recipes. You probably noticed that support questions are more often forwarded to us. This makes sense as the admins and moderators don't work for MiniBrew. Knowing this, It's incredible to see how much work they put into this.
Support Center
In the last month, we've made a ton of progress to integrate your questions in one central place. Today, we are excited to announce that the support center is updated. This means you can find most answers to your questions. It's easier to find manuals, beginner tips and more technical questions. Expect a weekly update of the support center so it becomes your starting point when you have questions about orders, hardware, software, ingredients, maintenance and warranty. Here is what our new support page looks like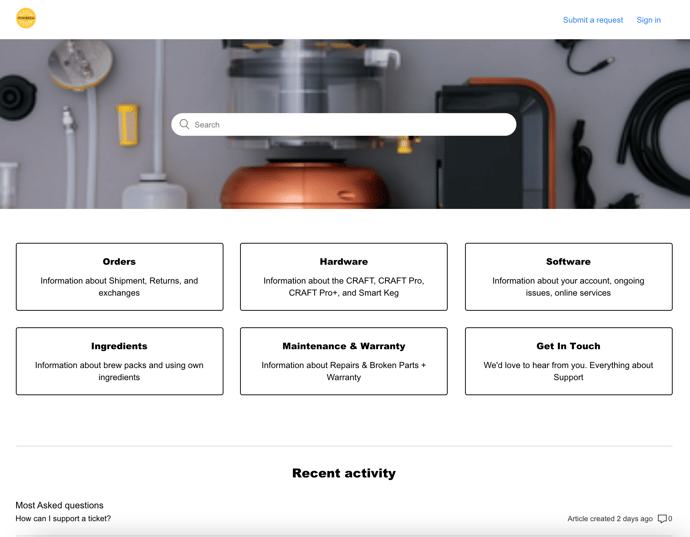 Support hours
Secondly, we hope that the self-service portal will help us to provide a response to every inquiry within 24 hours. Our support team is 5 days a week available, during working hours. On the weekend we don't offer support yet. We are aware that some of you prefer to have the ability to contact in the weekend.
Our goal is to work towards weekend support and fast turnaround time mid Q2 of 2021. To get there, we're looking for a Support Agent (still defining the specifics). We assume it takes some time to get this person on board as well introduced to the way of working.
Q&A session
Thirdly, we're pleased to announce that there will be another Q&A session focused around the use of the Pro-Membership and the Brewery Portal. We're setting up this session as it's requested by multiple MiniBrewers. Our brewing master, Rolf and Software Developer Dennis will talk you through , which ingredients you can use and take your questions.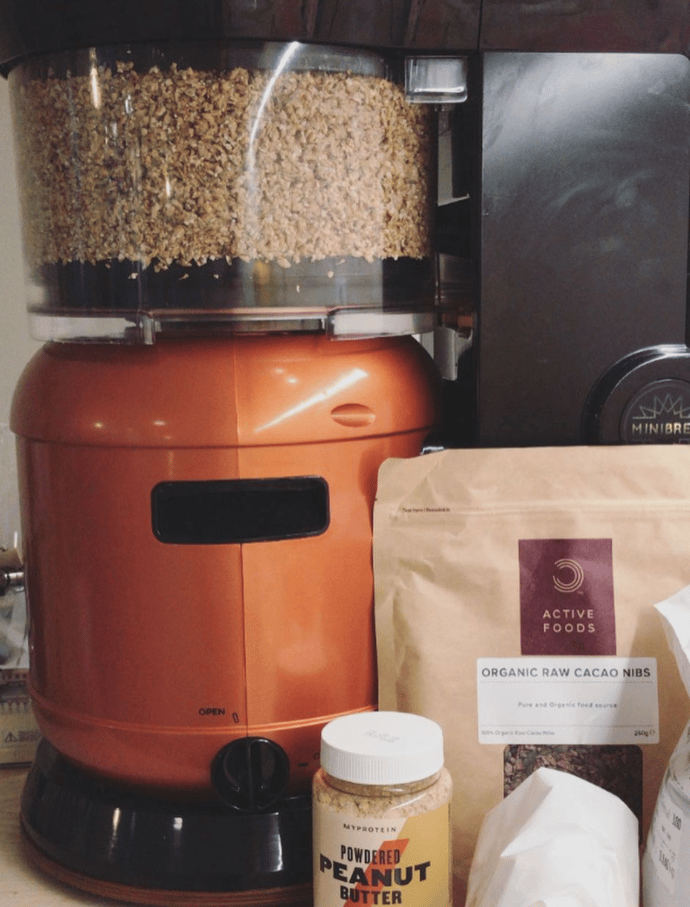 Like user C.kitchenbrewery uses the brewery portal and tried out multiple ingredients, such as pale malt from the special malt in hopes to get a more clean taste! And add some peanut butter powder and roasted cacao nibs during secondary.
Save the Date: February 25th - zoom link will follow via MiniBrew social channels.
Software Update
In the last two months a lot of focus has been given to preparation for the production of the Batch 3 of MiniBrew devices & making sure we're ready for this batch on our eCommerce platform. Here's a list of some concrete things we've been working on:
General
The EOL (End of line) app - this app is an internal tool used during the production process. It will check if all components of the MiniBrew are properly attached, and if all actuators and sensors perform according to our required quality level and if it is properly configured in our servers without brewing beer.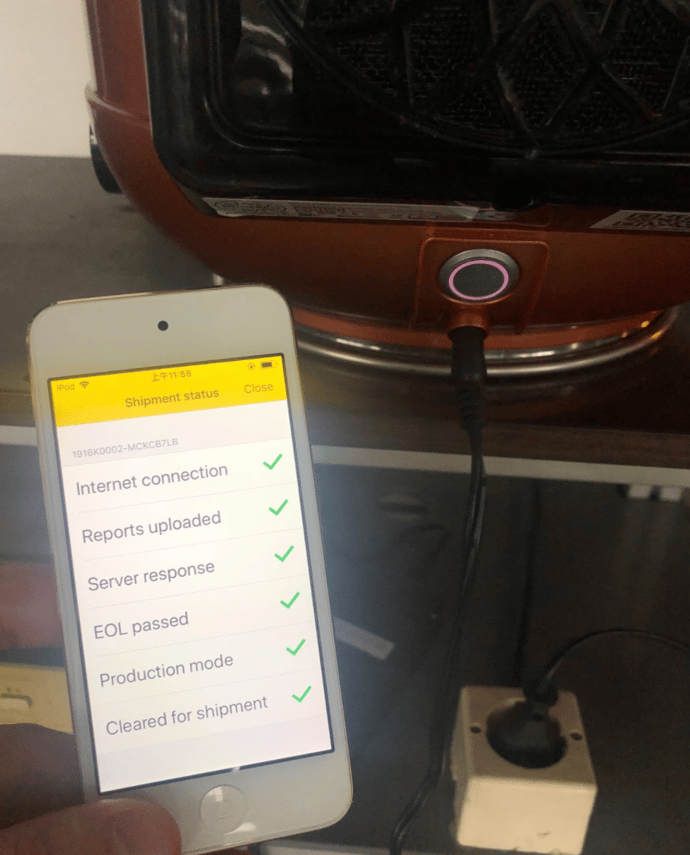 Testing setup of the EOL app in the factory.
PSD2 Compliance in web store - these are requirements set by the European Union to protect customers and to reduce fraud, we changed our payment provider to be able to be compliant with these new regulations.
Re-activated iDeal payments so transactions can be done more easily.
Made improvements to the website & Support page in preparation for the new production batch
Firmware
Improved captive portal, currently in use by beta group - it should make the access point mode of the MiniBrew a lot more stable and therefore improve the experience of setting up your wifi connection.
Introduced a framework upgrade, still being tested internally

The firmware is built upon a framework made by the chip manufacturer - a new major release has been integrated into our firmware which should give tons of stability improvements.
Portal
Working on the feature to brew a brew pack in the Brewery Portal - this feature is still being tested internally.
Apart from this a lot of work has been done on making the platform more sustainable. The coming weeks will still be focussed on the new production, but we're looking forward to starting with more portal/platform improvements soon!
Ingredients
In the last two month, our master brewer, Rolf van der Vlugt has been investigating the bitterness of our brew packs. As some of your reporter that some brew packs are a bit more bitter that. The research is still under investigating as he brews all recipes multiple times. It takes lots of time. So we do like to take a moment to address some important request we are hearing in the community regarding bitter beers.
We have improved our brew packs shelf life by changing the packaging method of the hops. The hops are vacuum sealed and remain fresh much longer than before.
On another note we started to only include hops from the most recent available harvest, increasing the quality even more.
Soon instructions will follow how best to preserve your brew pack when you ordered one, but are not yet ready to brew and make use of it.
Orders
Moving forward, we've been in contact with people who placed an order at minibrew.io for delivery of batch 2. Batch 2 has been sold within one month. The sales of Batch 2 went beyond our expectations. Thank you all.
Although the majority has been delivered, we're not able to ship products to customers in the United Kingdom. We know that the delay of shipment is taken longer than expected.
So we do like to take a moment to address some important questions we're hearing in the community regarding MiniBrew shipments
If you're a Indiegogo backer who hasn't received your MiniBrew yet, it's highly likely that you didn't have a confirmed address or have your phone number. At the moment, we can hook you up with Batch 3 version which will be delivered in May 2021. This is excluding shipping cost and tax.
Shipments to the United Kingdom were paused, but it's restarting. Since Brexit and long queues at the border, we noticed that our shipping company experienced difficulties. We're not like Amazon that has the power to move their products fast. Eventually we found a solution and worked with UPS to get shipments going. About 10 out of 350 shipments are still unshipped at this time. We've been in email contact with UK customers and who reached out to us
In the past, we've shipped many brew packs and MiniBrew's to Switzerland. As of last week, customs returned shipments and informed us that they need more information on the invoice. We're updating the material list to ensure you get your order. There might be a delay here.
Our shipping companies (DPD or UPS) will send you a Track & Trace link as soon as your order leaves our warehouse. Make sure you double-check your email spam folder, as shipping emails can sometimes end up there by accident. Our Customer Support Team has NO update about your track & trace code when your order is still in the warehouse. On your confirmation purchase you will find how many days it takes to ship your product.
Spare Parts
In November, we started with offering spare parts from the Minibrew store. Many of you ordered a new Mash Tun 2.0 and other small parts as replacement after 50 or more brew cycles. Based on your requests, we've been expanding our store with more user replaceable parts, such as hop disks, beer tubes and Mash Tun Valves.
Our hardware team checks on a quarterly basis what's required and has requested new spare parts from the factory. We're expecting new Trub container, Keg Filters, Hop Bags and Power Adapters anytime soon!
What else is brewing



DIY: For the ones that didn't know yet! BrewDog shared the entire recipe portfolio from the classic Deadpunk IPA to Elvis Juice or the more quirky ones. Get brewing!
Hops: Breweries will not only be looking to push the envelope with new flavors, but also look to cut costs wherever they can due to COVID's crunches (thanks for the link Florian).
ExBEERiments: can take a lot of time. Take the guesswork out of the experiment and check the effects. of temperature on dry hopping results doing water chemistry.
Best Beer: ..... In the world? Is a question lots of people ask us. It's hard to say, but we think everyone has something in mind. Anyone of these?
We hope you enjoyed this month's update and look forward to hearing feedback in the comments below.
Happy Brewing
MiniBrew Team