Getting Started with Craft Beer Home Brewing Books-Our Recommendations
by MiniBrew Team, on May 13, 2020 5:54:21 PM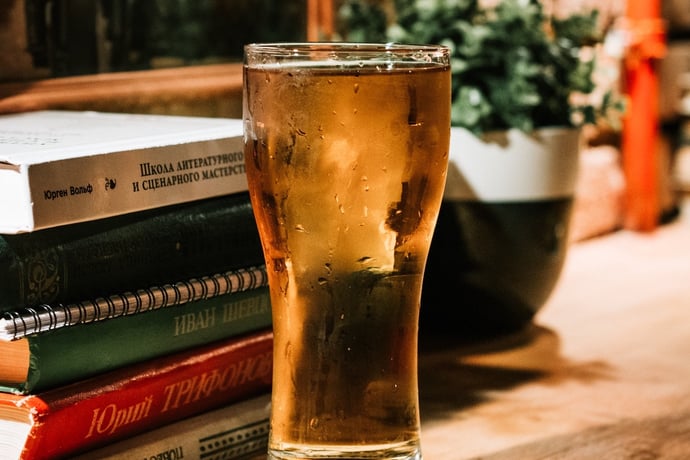 As with any new project, it takes a little time to master the art and science of great craft beer, but this is a growing area with plenty of potential for experimentation and enjoyment for those willing to put in the work. The craft beer sector as a commercial entity has grown dramatically in recent years, but similar growth is also seen in domestic beer production across regions such as Europe and North America.
In the UK, a recent survey discovered that just 2% of adults think craft beer can be made effectively by large multinational corporations, favoring small breweries and independents. This love of a more artisan approach to beer making has also extended out into the developing home brewing scene which is booming around the world.
The Home Brewers Association of America has found that 40% of all home brewers began brewing less than four years ago, so you're certainly in good company if you're just discovering your love of delicious beer made at home.
Before you get started with beer brewing, it's helpful to know a little more about the process. The good news is that there are plenty of useful resources online and some great home brewing books in print to set you on the path to successful home brewing in no time at all. Just before you order your new books, keep the following tips in mind:
Look out for equipment styles
There are lots of different ways for you to brew beer, and there is certainly no one-size-fits-all approach which will work for everyone. Before you brew your first batch or invest in expensive craft beer brewing equipment, take a look at your options.
Some brewers are adamant that the DIY route works for them, but for most it is a more labor-intensive approach, which produces poor quality beer in comparison to an all-in-home beer brewing machine. Taking time to read different home brewing books before you begin brewing will give you a good feel for the process and various equipment options, enabling you to make an informed decision as to how much you want to spend on your new hobby.

Choose books which outline the brewing process
The craft beer making process comprises of many steps, and just as when you're following a recipe, taking care to complete each stage properly is vital. Acquaint yourself with the logistics of key stages such as fermentation so you are able to meet each new challenge with confidence.
Our favorite home brewing books
There are lots of home brewing books focused on craft beer, each tailored to different levels of expertise and experience. If you're just getting started, then the following books will be particularly helpful:
The Complete Joy of Homebrewing (Charlie Papazian)
This book is a tremendous all-rounder, making it perfect for newbie home brewers and amateur craft beer enthusiasts. There's plenty of up-to-date information within its covers and it's also extremely comprehensive, both of which have helped contribute to it swiftly becoming a classic amongst fans of this fun and immersive hobby.
If you're on the lookout for recipe inspiration, there is plenty to be found here too – with suggestions which can be tailored further once you grow in confidence with your personal home brewing style. The book provides a wealth of accumulated knowledge and has stood the test of time; it is now in its fourth edition but is still attracting new fans decades later. The author is widely regarded as being responsible for a huge shift in beer culture and there is plenty of evidence of that in this book.
Expect tips on kit, 80 recipes for beer and mead plus an explanation of key flavors and aromas, ingredient information and a run-down of 68 hop varieties along with suggestions for their use. It isn't known as the 'bible of home brewing' for nothing!
How To Brew (John Palmer)
If it's the nuts and bolts of brewing which you need to focus on, then How to Brew by John Palmer is a fantastic option. The book goes into great detail in its descriptions of brewing processes and even helps you to set up your system – ideal for first-time home brewers who really need this helping hand.
This book really focuses on process and technique and it covers everything from ingredients and equipment to recipes and methods. There's an explanation of how to brew all-grain beer and the information is conveyed so clearly, this title is perfect for those just starting out. It is also detailed enough to be a valued reference as you develop your home brew expertise.
Mastering Homebrew: The Complete Guide To Brewing Delicious Beer (Randy Mosher)
For more all-rounder home brewing information, this book is every bit as comprehensive as the first two additions we suggest, but Mastering Homebrew also includes plenty of great images and visual aids which help to bring all this info to life. Graphs, charts and high quality shots of tasty beer are all included.
Randy Mosher is well known as an authority on home brewing and he has distilled a lot of his expertise into this book's 384 pages in the book. You'll find it encompasses both the science and the art of home brewing, covering the fermentation process and how to tackle any problems which occur during your first few attempts. There are more than 30 recipes included within, so you'll soon have plenty of delicious beers to share with family and friends.
Designing Great Beers (Ray Daniels)
Arguably the greatest thing about craft beer (and home brewing) is the sheer scope for creativity when it comes to flavors. As you become a more confident craft beer brewer, you'll no doubt want to experiment with your own flavors and recipes. This book preps you perfectly for that aim. A technical manual, you can expect to refer back to this book often for its brewing formulas and tables. Keep it as a reference guide to accompany you on your craft beer path.
To master the art of homebrewing, you need plenty of inspiration and great resources to get you started. MiniBrew CRAFT is designed to make your craft beer journey simple and effective, so be sure to contact us and see how our all-in-one systems can help you become a #CraftBeerHero.