Big Business Update - Dec / Jan / Feb 2022
by Bart van de Kooij, on Mar 1, 2022 6:16:58 PM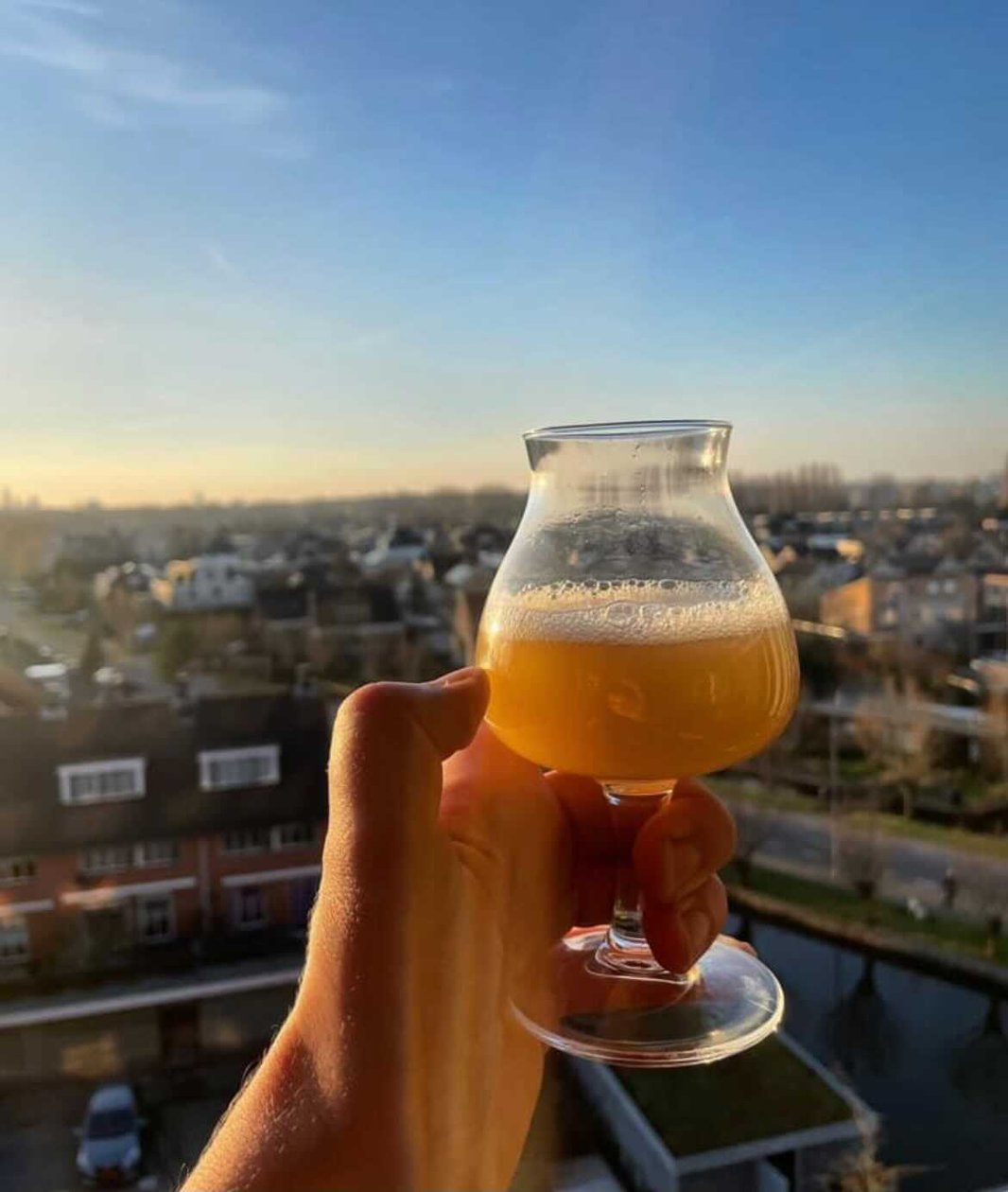 In the past months, we have been incredibly busy with shipping the remaining orders, designing the Android app and releasing new updates.
2021 Review (Never too late)
2021 was an incredible year as new styles have been developed and connections are made. Our mission remains laser focused on connecting the world through technology and design to bring the beer brewing process into peoples lives in a more accessible, affordable, efficient way without leaving any environmental waste. The total amount of beers made is at record breaking level of 231.220.
In 2021 you made 70.656 beers
While everyone was trying to figure out the stock market, you created 3.560 recipes
The most popular recipes are the NEIPA of Philipp, Imperial IPA of Richard and the Karmeliet Clone of Dries.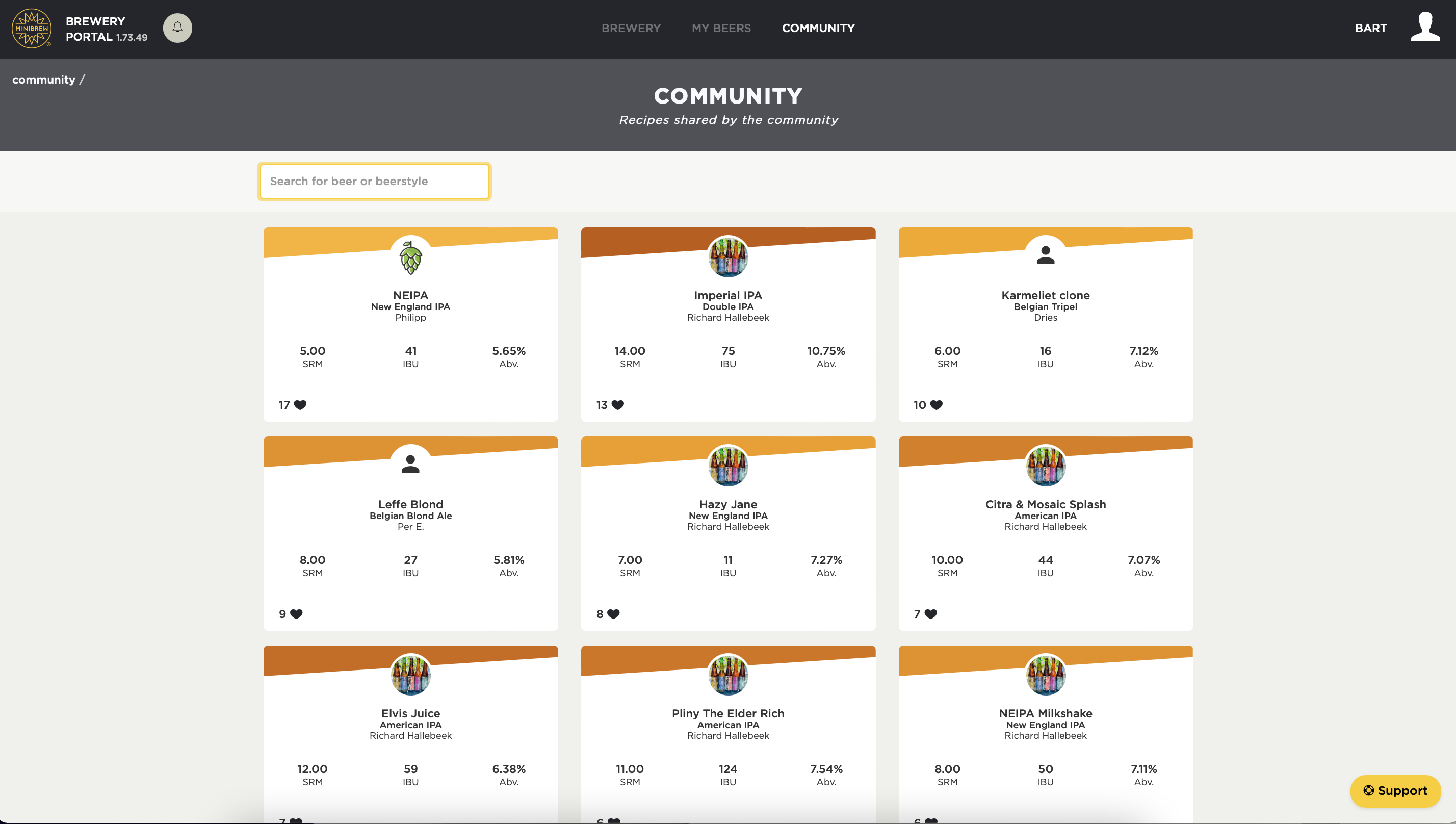 The pro-membership community page
Delivery Update
Thank you for your patience while we have been working on deliveries around the world. Good News!! Today (March 1), we checked our backlog of deliveries and we are getting back on track within normal shipment delivery times.
We know that many of you have bought their product since May 2021, and you likely experienced longer wait times than usual, and/or have had your delivery date rescheduled, or the goods have been returned due to customs issues, which is obviously very frustrating. For that, we sincerely apologise.
We heard your concerns about shipping times, and we are working with a customs expert (Frank) to have a faster and higher delivery output. While there are still setbacks with British, Norway and Swiss customs, we've been seeing less delays in shipping and getting confirmation from users that received their products.
Unfortunately, having an expert on the team has not gotten us out of the woods. These unpredictable delays have resulted in painful delivery reschedules. For that, I again apologise.
So what have we done?
We have transported your products at a delivery cost that is over ten times our usual cost per CRAFT so you can start brewing.
In many cases, shipping them by express instead of regular. And by air instead of a truck.
We made this investment because we are as frustrated as you are that you don't have a Craft machine and are able to start brewing.. We want to let you know that we are (and always have been) deeply committed to your happiness and we've fallen short of that in this regard. Please know we're working hard and spending lots of time to get it right.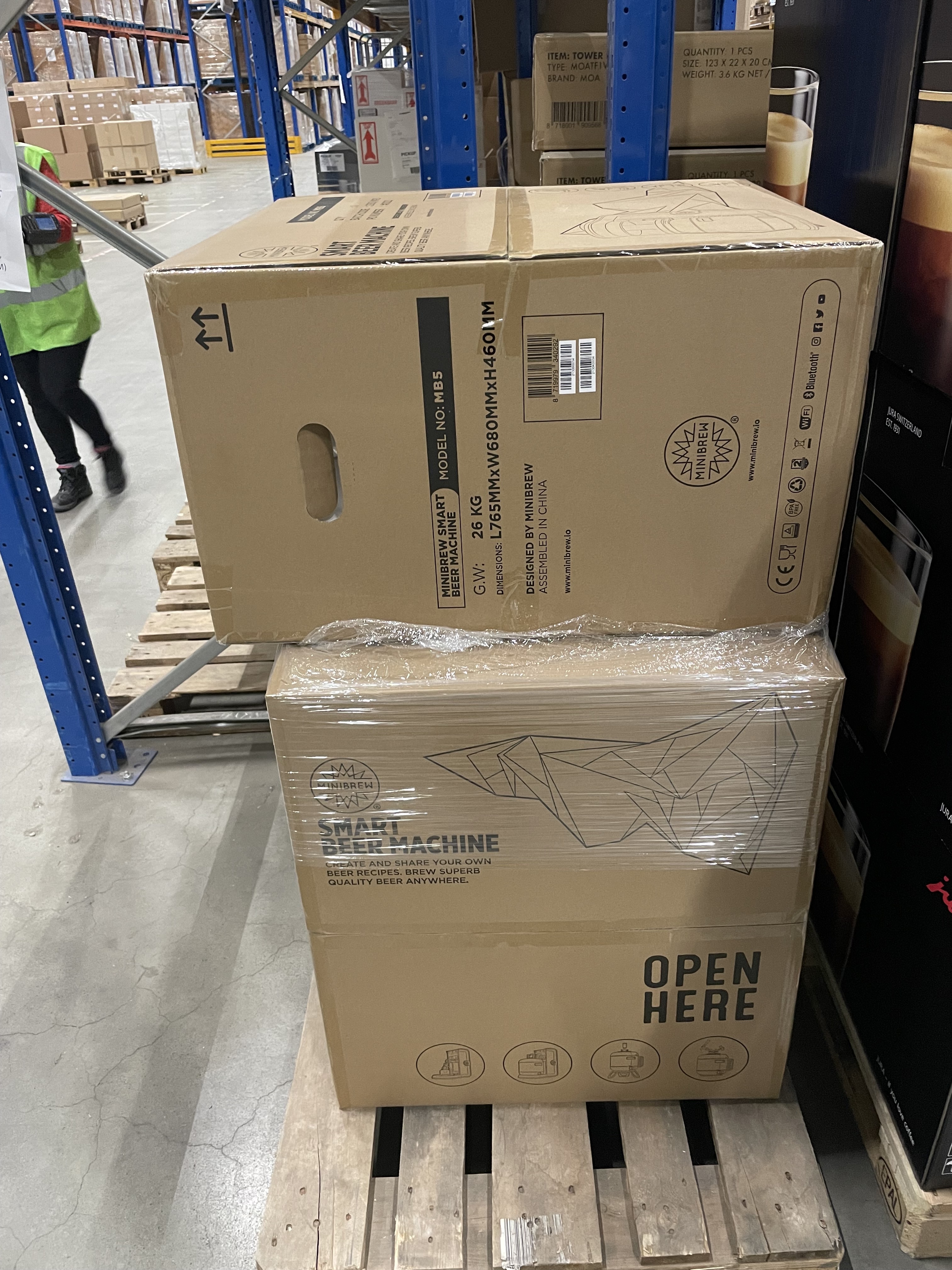 The last gen two's waiting for shipment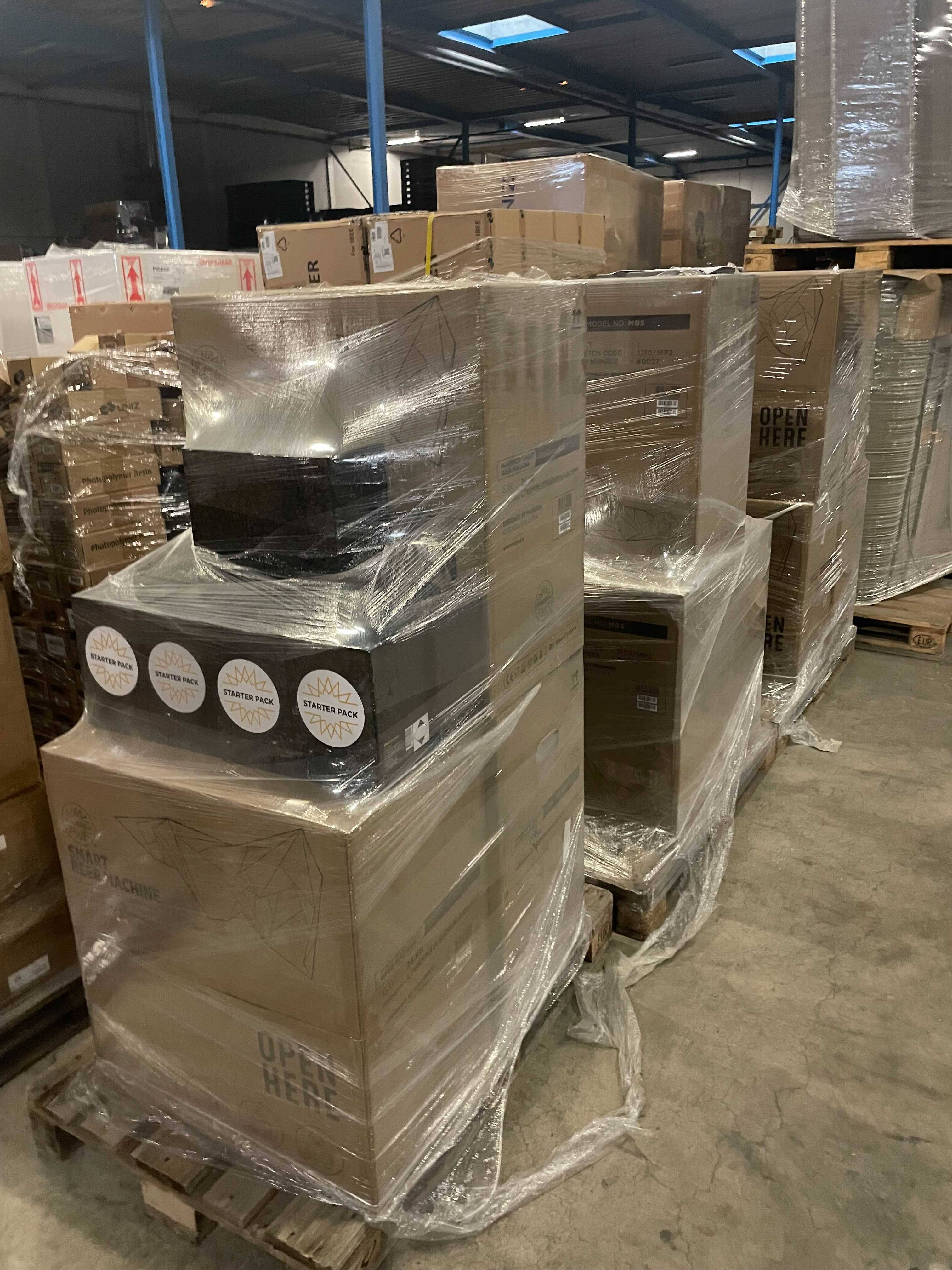 The last pallets of GEN 2 in the warehouse
Shipments to Norway and Switzerland
Despite our efforts in shipping to Norway and Switzerland, we still faced many delivery issues. We noticed that people want to have a solution and your thoughts are heard. We discovered that shipping pallets to these countries are less of an issue than individual shipments. For that reason, we have improved the relationship with different retailers in order to reduce the wait time.
In Norway, Brew shop Olbrygging will ship outstanding orders regarding a GEN 2 CRAFT or GEN 2 CRAFT Pro / Pro+ instructed by MiniBrew Support Team . In case your order has not been shipped please inform our support team with your order number, so we can align with Olbrygging. Future orders in terms of brewpacks we recommend to order via their shop.
In Switzerland, we are in contact with our existing retailer Brau & Rauch and working out a similar setup.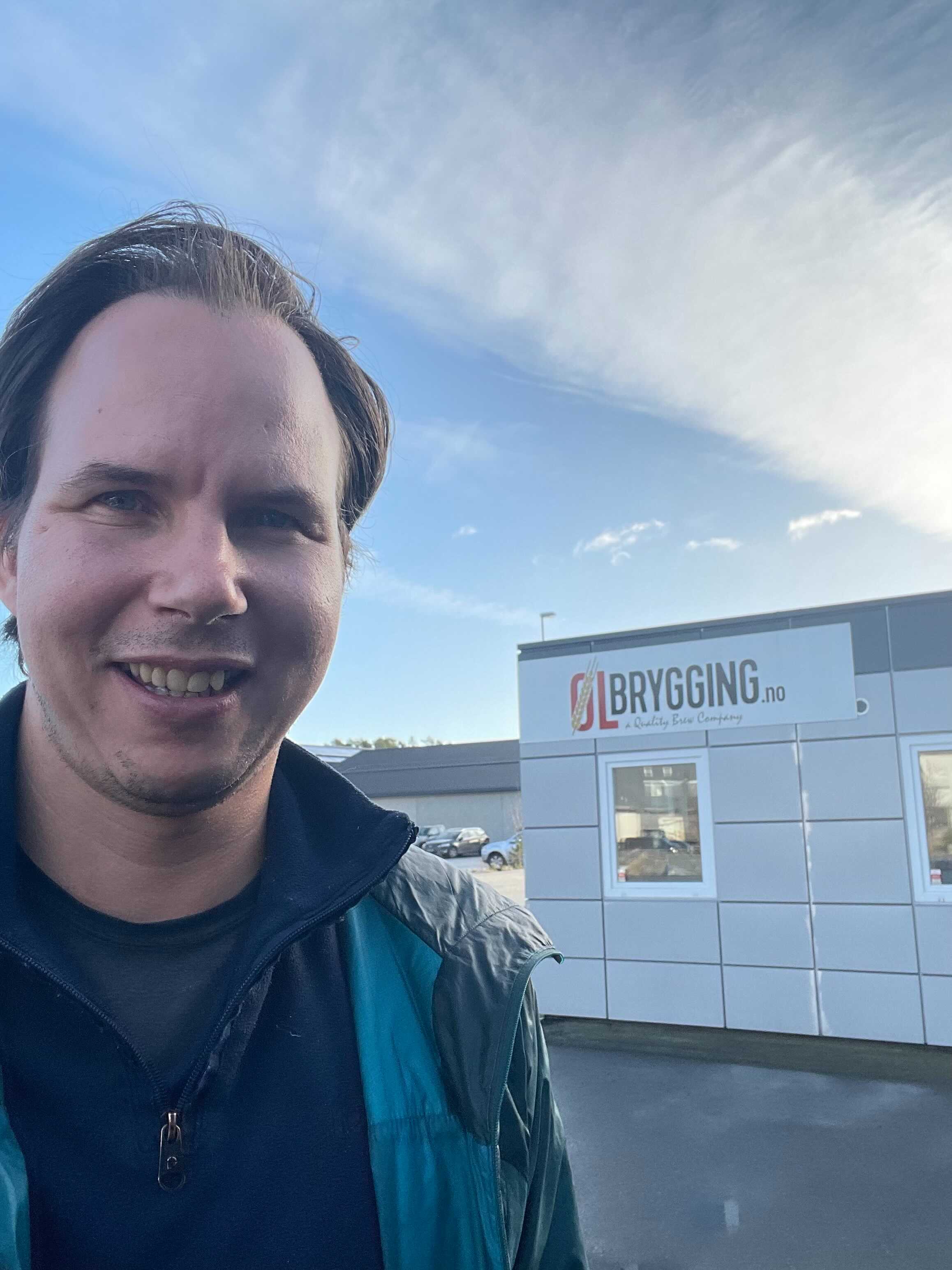 Visiting Olbrygging to strengthen the collaboration. More things will follow in the future.

Olbrygging physical shop in case you live close to Grimstad (Norway)
New Smart Keg Shipment from China
Thank you for your patience while we have been working on our container shipping projections. Currently, we are still planning the fourth shipment of 300 kegs and must-need spare parts. We waited on the completion of the spare parts so we can combine the shipment.
In the meantime, shipping by air has become increasingly paralysed and expensive as more airlines suspended flights – not just to Russia, but to China. The instant impact is that capacity has shrunk further. Unfortunately. Our delivery team is in contact with a local Chinese shipping company to sort out the routing and cost. We don't have a update yet on the shipment date and arrival. We'll update this article when we have a tracking number.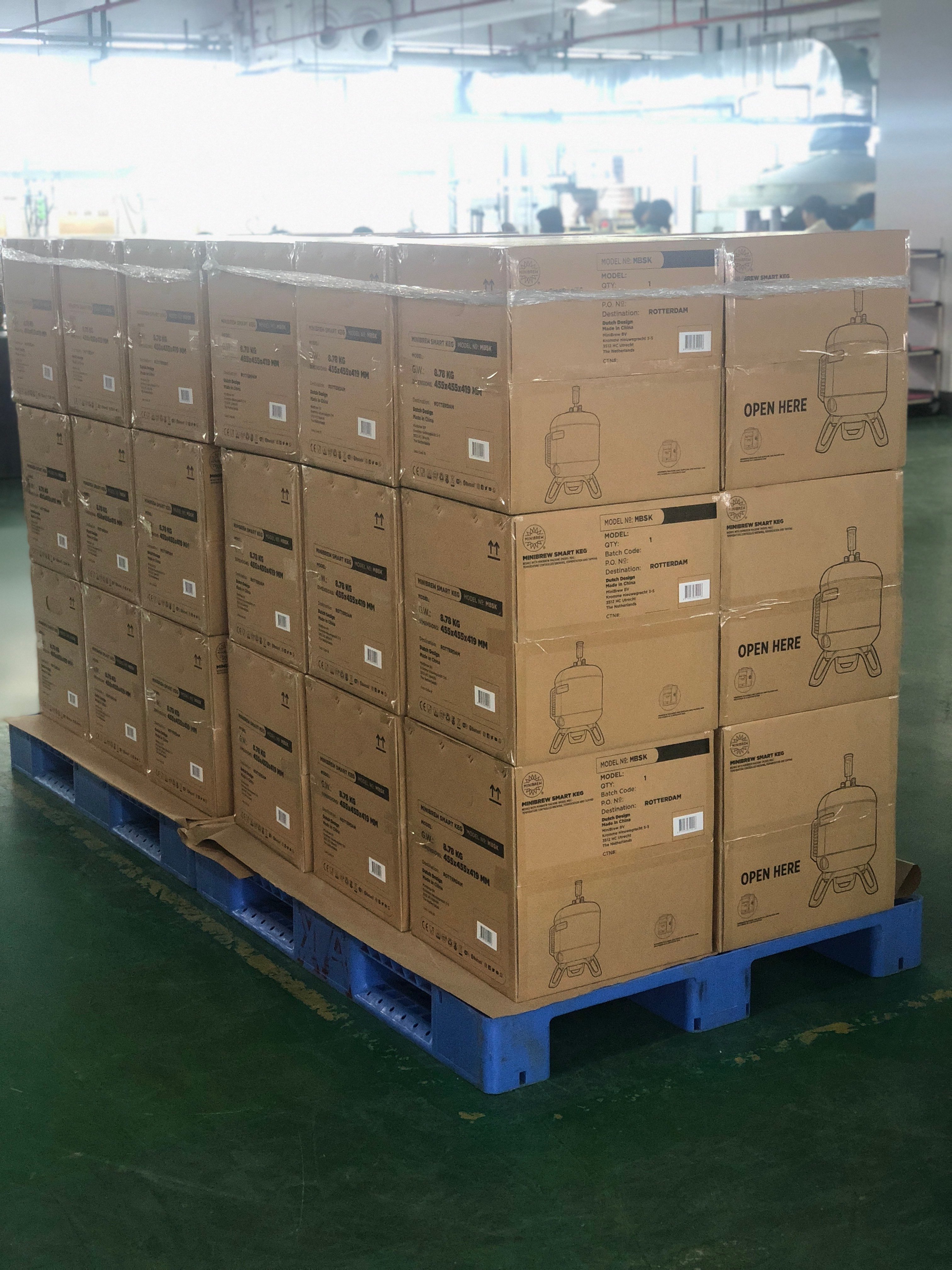 Fresh Smart Kegs waiting for shipment.
Brew Packs Stock Levels
We know that your favourite Brew Packs have not always been stock as some ingredients were hard to source. On top of that our ingredient partner was almost bankrupt, but found a new investor to continue the business with us. There is no need to worry as we got you covered.
The following packs are back in stock:
Don't Leave Me This Way

Icelandic Pale ale

Gulden Craen

Hazy Daze

Trajectum Tripel
Soon to be shipped to our warehouse:
Hopfenweisse

Hainaut Saison

Bonfire
The Stapzwan Porter has been out of the picture for a while due ingredient constraints, but this will change soon. Our brew pack vendor has found the ingredients and will assemble the Stapzwan Porter in the near future.

Brilliant made Stapzwan Porter by Richard
Next to that, Rolf (the brewing master) is coming up with new recipes, such as Vixen (a heavy blond) and he is brewing the winners recipes of the What The Funk Competition. The goal is to ensure all ingredients are available and the recipes can be turned into a brew pack. Here is a short impression of the tasting session.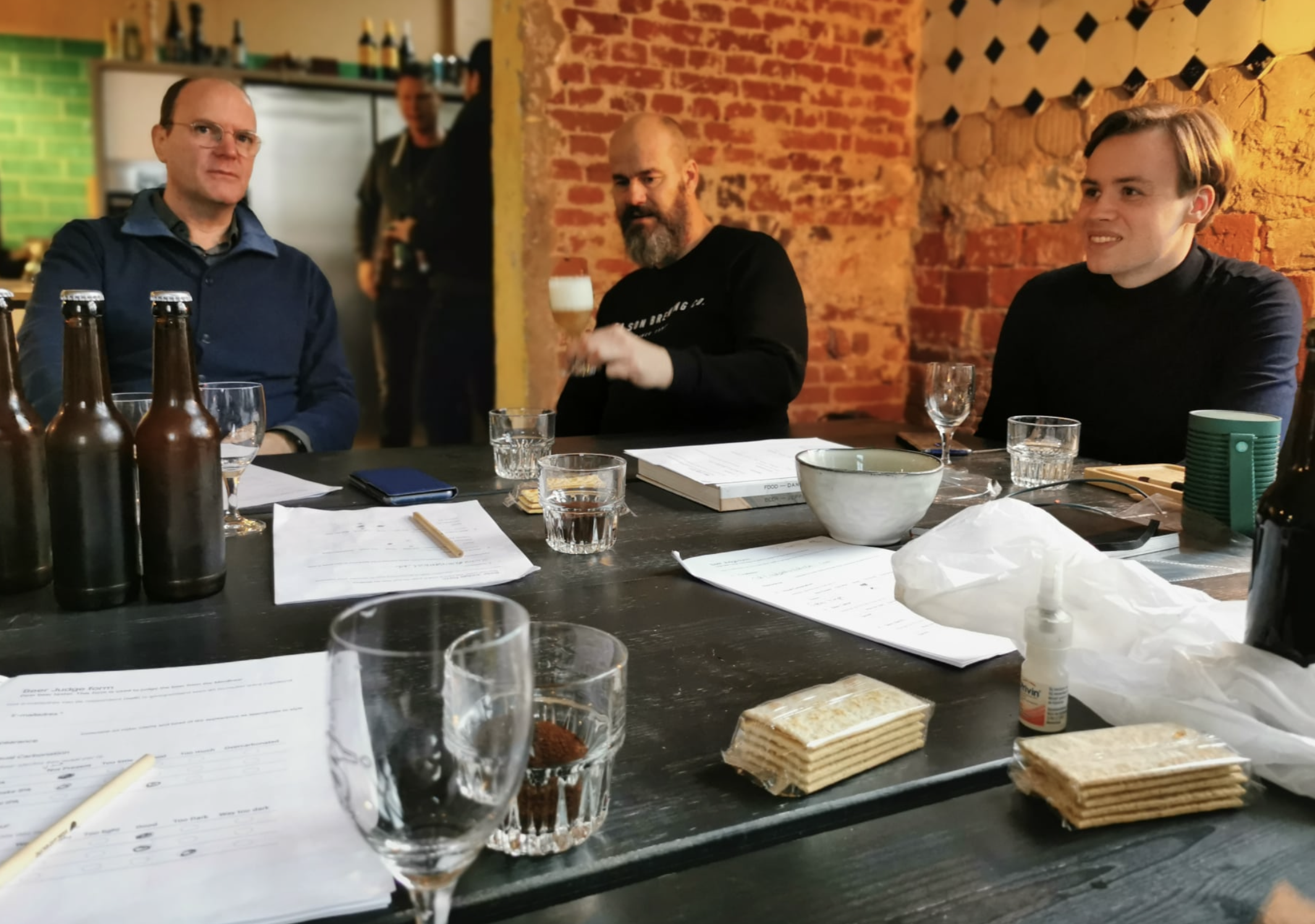 Tasting session with Rolf (on the right)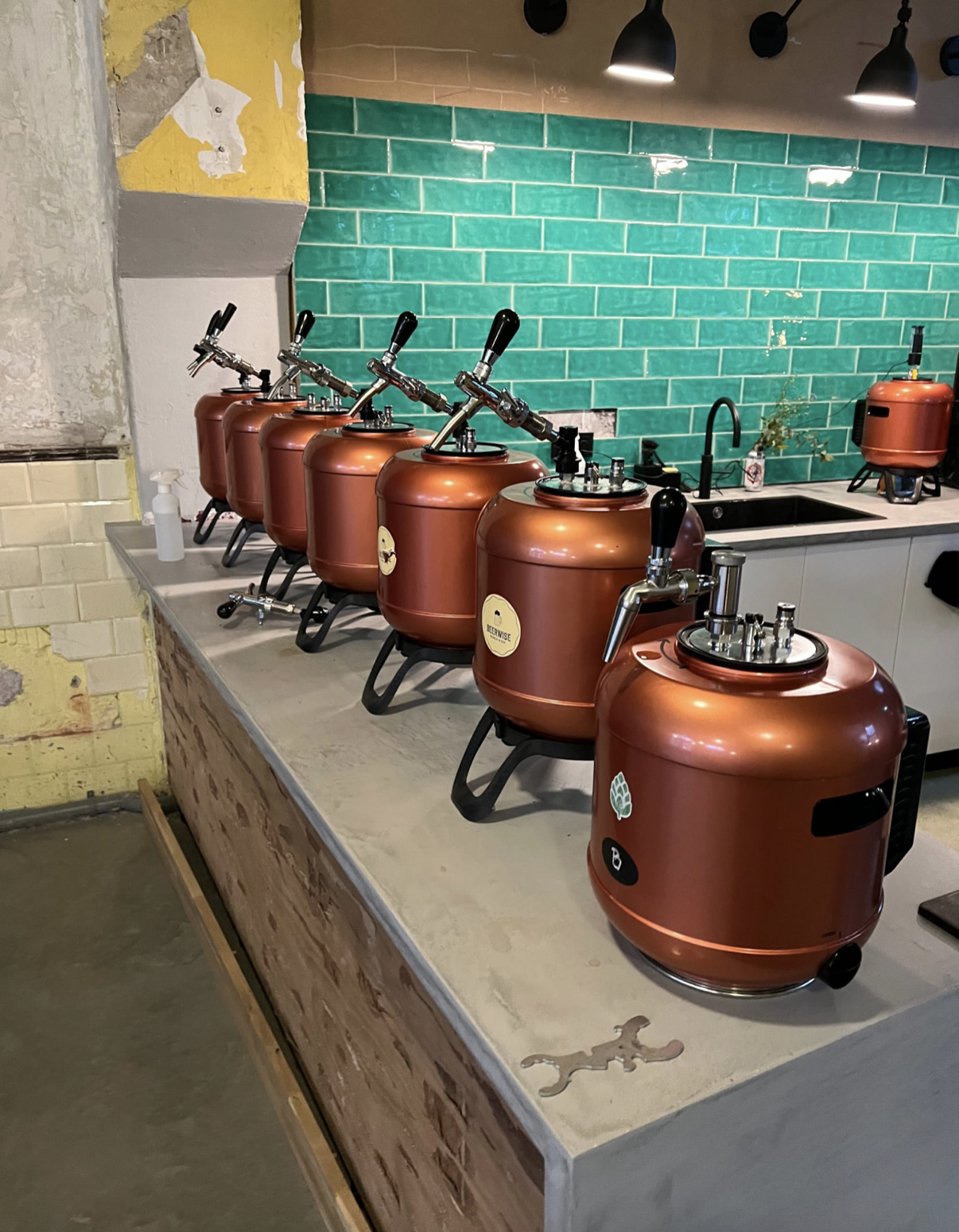 Users kegs ready for tasting.
Hardware GEN 3 update
In the last update from November we have explained the difference between a GEN 2 and GEN 3. Today, as the news is still fresh, I want to share a short update about the assembly date of GEN 3. As we are aiming for shipment in June 2022, the product needs to be assembled in May.
Right now, the manufacturing team is buying parts from all over the world and checking our material buffer. We might have a potential issue as the delivery of a cooling component is stalled. Each Smart Keg uses a peltier element. Peltier modules are electronic devices designed for cooling objects to below the ambient temperature or maintaining objects at a specific temperature by controlled heating or cooling. This part is manufactured in Ukraine. The supply has been temporarily put on hold due to the war with Russia. First of all, our thoughts are with the people of Ukraine who are trying to defend their country.
In parallel, we're looking into alternative vendors as the Ukraine situation is uncertain. We might also consider to lower the amount of orders. As an effect we won't have any extra stock and everything will be based on pre-sales. At the moment, we don't yet know if this impacts the assembly date of the GEN 3. In the next update, I hope we can share more details about the impact.
Software Roadmap + update
As mentioned in the November update, we would share our roadmap. Minibrew strategy is to improve the core experience by helping you to brew successfully. To achieve this, we will make improvements across the platform, for example from user actions to notifications up to self-control over the process on iOS, Android (soon to be launched) and in the web based pro-membership environment. In parallel, the team is working on optimising the infrastructure and fixing bugs.
Later in 2022, the team will focus on getting more people on the platform that might not own the hardware. In one way, we will focus on facilitating connections and bringing the community . Another idea that's in our mind is around the fact that every Minibrewer is a micro brewery with a capacity of 5 Liters or more. We assume there are people out there that want a special made craft beer and willing to pay for this. Let us know in the comments who wants to brew for others and get paid for it.
Furthermore, the software team has been steadily working on bug fixes, new features and simplifying the user actions to become more efficient and easy. Here is set of new releases since December 2021
New releases iOS / Pro-membership
The QR code scanner was glitchy in the iOS app and we fixed a bug to prevent the app from crashing
Lay-out and bug fixes for iOS 15
Improved the WiFi Screen in case your caption screen doesn't pop up
In case you are stuck, you can now file a ticket to the right support team, which is either tech or regular support
After receiving feedback from users who manually control fermentation in the serving phase, we reverted the max serving temperature from 5-12 degrees back to 5-25 degrees.
We improved the ingredients storing instructions, so you will easily know which ingredient package belongs to which brew pack.
Updated the webhook for membership payments to the payment data is synched with our back-end
Improved our distribution system (celery) to prevent there is a server lack
Increased the disk space on the broker to avoid that the service stops and installed notification to be pre-alerted
New release Android
On December 30th we merged the code into the development branch. In the next quarter, we expect to release a BETA version and share how it works. We are very excited about this.
New Pro-membership sign-up process
We can only modify and add free months when membership is active and has had at least one payment, which is either monthly or annually

If your order requires free months, please inform us as soon as you have created an active subscription so we can update it on our list of modifications and refunds after your free trial.
Brew Workshop - Launch of Beer wise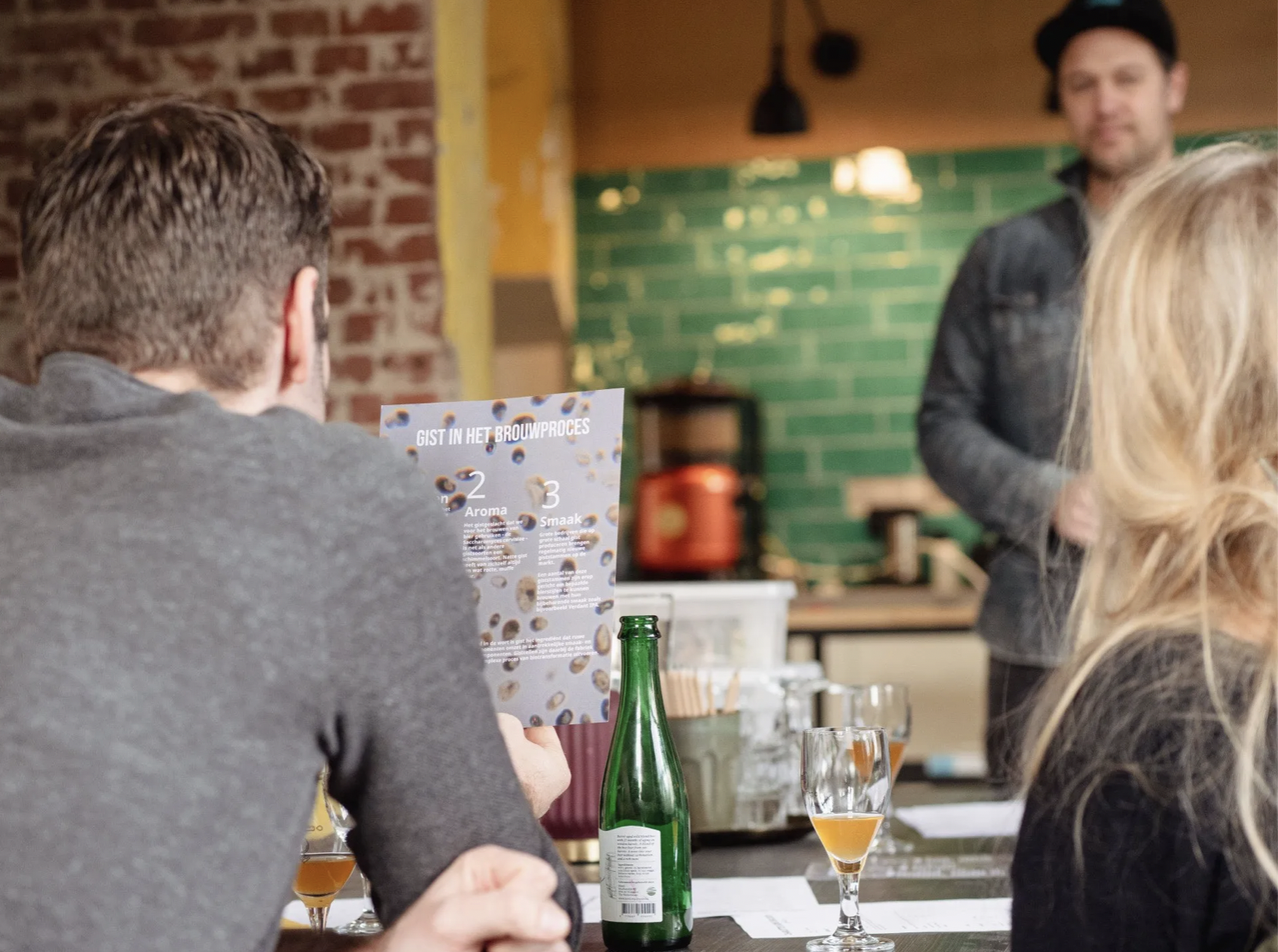 End of last year, Minibrew user Remco La Rivière came to us with the idea to help people get a deeper understanding of beer styles, ingredients, the brewing process and so on - by letting them actually brew and taste beer. For him, the MiniBrew CRAFT brings together some of his personal interests and personal traits: smart & connected gear, being genuinely creative with food, rapid feedback loops & continuous improvement and - last but not least - sharing knowledge.
His idea is in line with MiniBrew's bigger goal to involve more people into brewing beer and for that reason, we support these kind of initiatives. He created Beerwise with the mission to make a growing number of people Beerwise! Remco is offering two types of workshops in The Netherlands (Utrecht).
In the extended version, participants learn to create their own recipe which they will brew during the workshop.
The basic version lets participants brew a Beerwise selected recipe which will be available during the tasting part of the workshop.
If you are interested in his workshop here is nice 2022 Offer: 10% off when you book a workshop in NL using code 10MB2022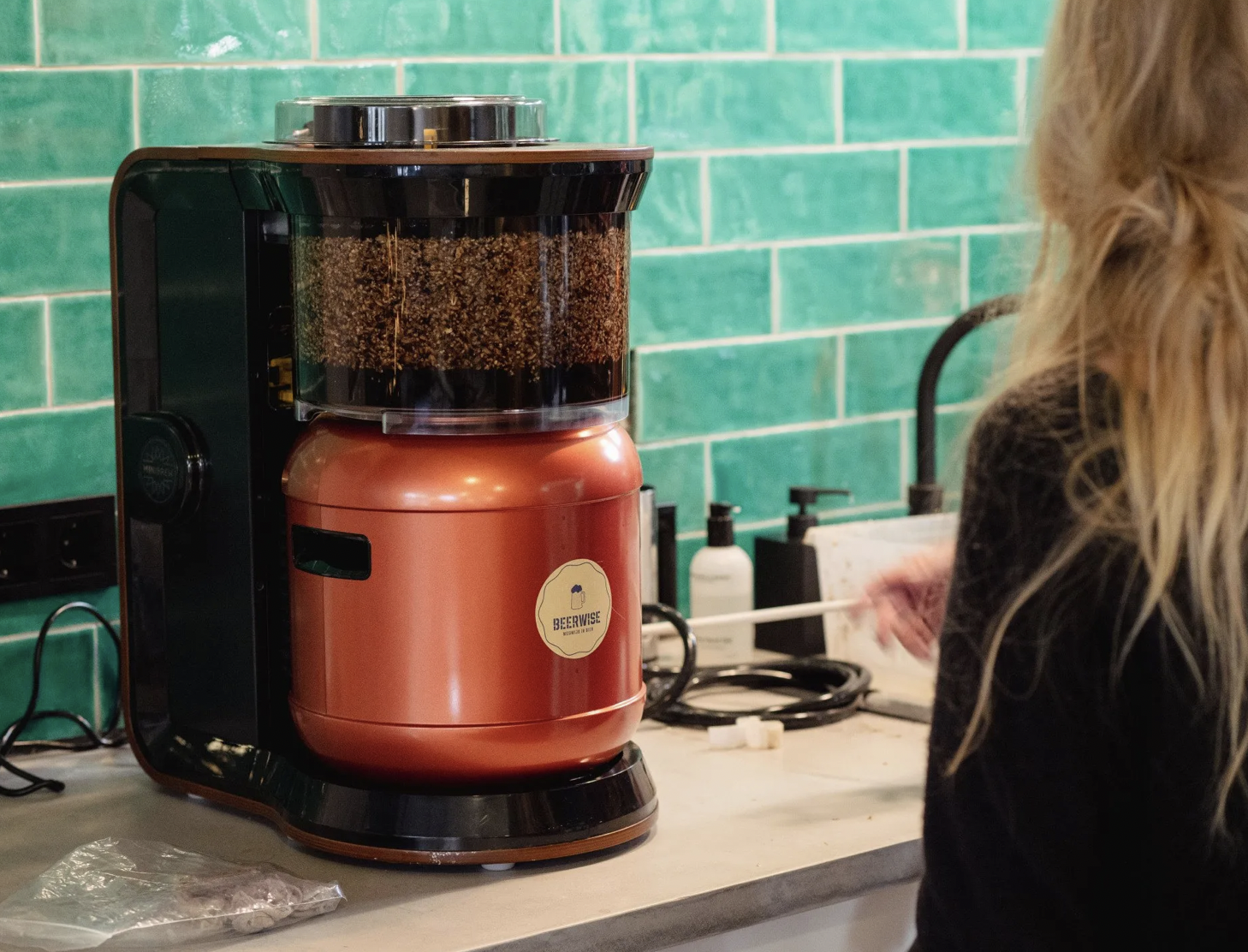 Learn how to brew beer with beerwise.nl
Repair & Maintenance
In the last weeks, the repairs turnaround time have been a bit slow as our team was hit with a few COVID cases. Everyone recovered and we're 100% up and running. On top of that we have expanded the team with a service engineer to serve anyone who bought the Peace of Mind Maintenance Service (€139 inc VAT) and Peace of Mind Maintenance + Replacement Service (€219 inc VAT).
Both packages come with an extension of your warranty coverage for 3 years and priority support, as well as tips about brewing, using other materials, and coverage of repair costs. The Replacement Service includes ad-hoc maintenance checks and a replacement package of parts that get discolored after a number of 25 brews. Both packages can be found in the Brew Gear section of our shop.
Team expansion
Recently, Glenn started in the customer experience role where his focus will be on giving you the best support on non- and technical issues, as well help with possible delivery issues.
MiniBrew is expanding the team as we've two roles open on our job page. Full-time finance manager and a role for technical experience specialist for weekends and some evenings. These roles can be executed remotely within EU time zone.
If the person you recommend stays on for six months , you will receive 2 complimentary Smart kegs as a thank you.
Next update
In the next update, we will share everything about the progress on the Generation 3 model. We hope you enjoyed this update. Please share any feedback/thoughts in the comments. Thank you as always, and happy MiniBrewing!
Cheers
MiniBrew Team