Business Update - November 2021
by Bart van de Kooij, on Dec 4, 2021 7:54:36 PM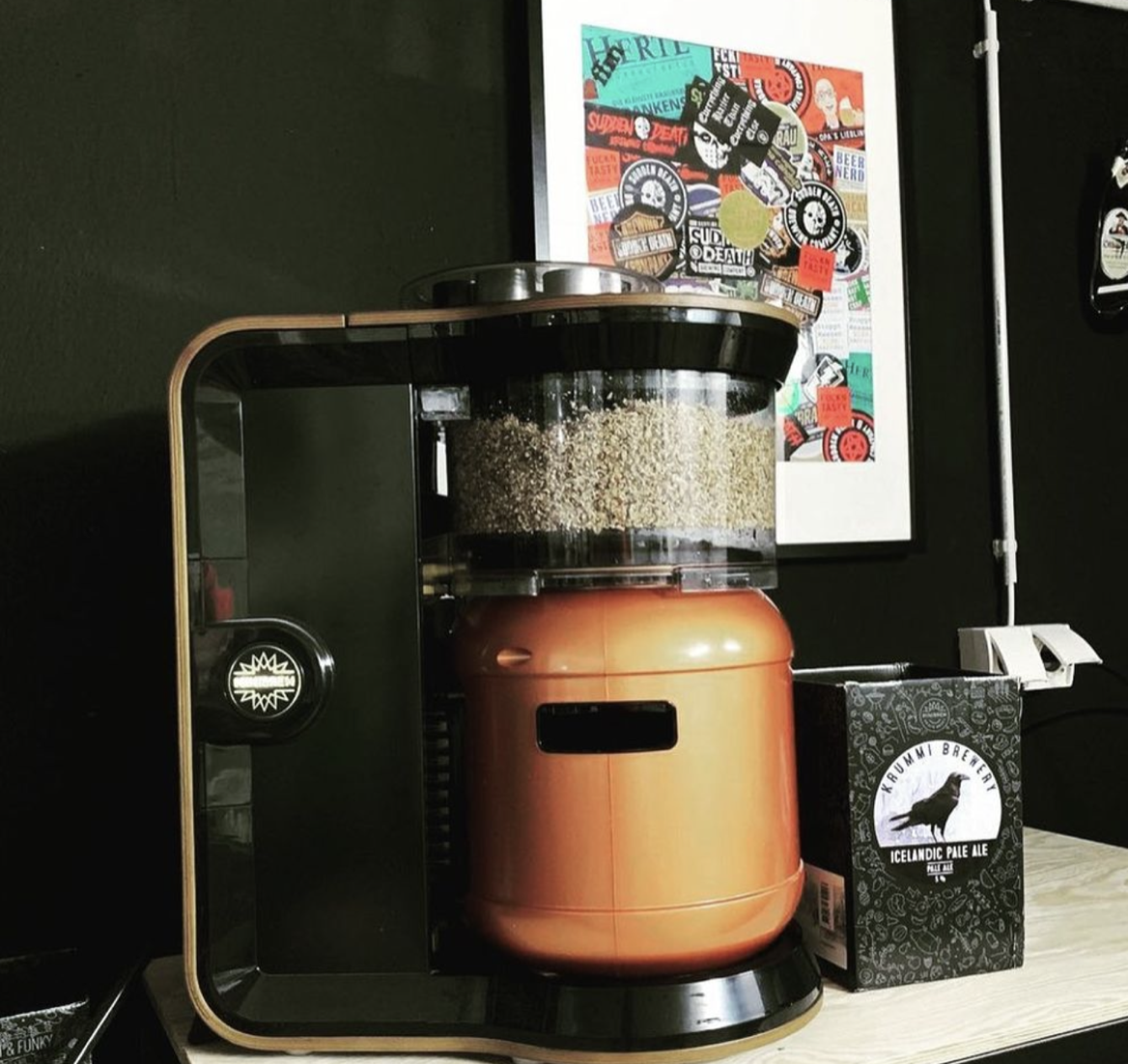 In the past weeks, we have been incredibly busy with shipping the remaining orders of batches, replenishing brew packs and spare parts, and designing the Android app.
Batch 5 Shipment
Thank you for your patience while we have been working on our container shipping projections. Good news! Our container shipping projections are becoming more accurate. We heard your concerns about shipping times, and we switched shipping companies (from EU based to China based) to have a more efficient system. While there are still setbacks with shipping world-wide, we've been lessening the delays in shipping the MiniBrew.
In the October business update, we mentioned that the container would arrive mid-November. Evergolden, the freight forwarder, gave us an update that the boat ran into a few days of delay in the Suez Canal. Eventually, the boat arrived on November 22, and our container was unloaded as soon as possible a few days later.
Currently, we're planning the fourth shipment of 300 kegs. We'll update this article when we have a tracking number.

When will my products arrive?
The container with the CRAFT, CRAFT Pro, and CRAFT Pro+ arrived at our warehouse on November 26, and we began shipping the products immediately. Our delivery team is working around the clock together with our warehouse to get as many orders out of the building as possible. As we've built a huge backlog of orders it takes time to process everything. On a daily basis, the team sends up to 50 orders that contain over 100 products. The orders are getting sent everywhere in Europe and even beyond that on customer request.
Some of you may have received your product and others need to wait a few more days. We hope we can count on your patience. Our Support team is working hard to answer questions, and you can expect to hear from us within 24-48 hours.
Furthermore, we're shipping in the busiest period of the year and shipping companies, such as DHL and PostNL are informing us that shipment might be delayed. After Christmas, we expect normal circumstances, where delivery times would be between 1 and 6 days.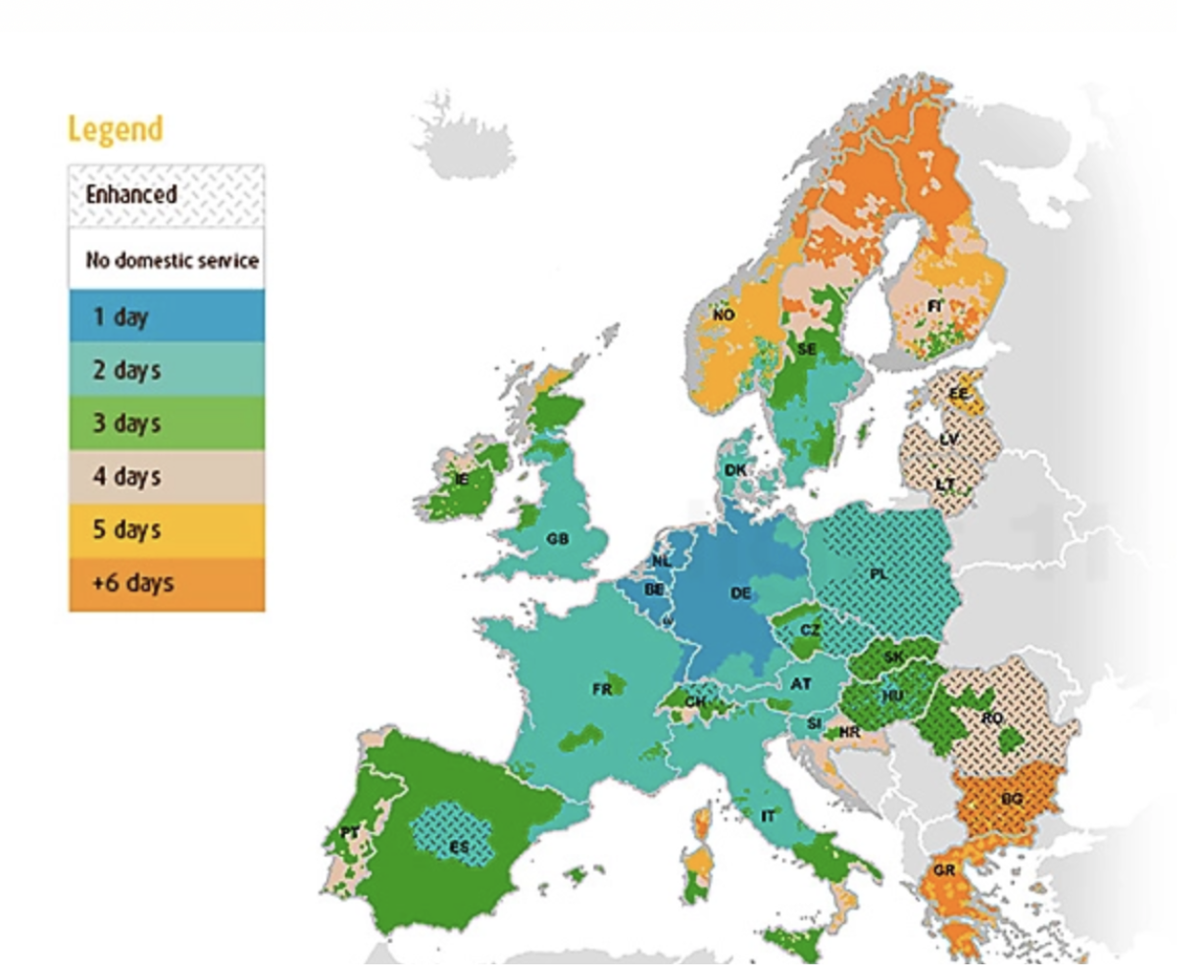 How will the products arrive?
Our goal is to get your products to you in an efficient and safe way. Your order may come in multiple boxes due to the weight and size limits set by our shipping company. It may even arrive on different days. Please contact our Support Team at hello@minibrew.io if you believe you are missing a package after waiting a 3-4 days.
A standard set-up would include two or three boxes. To avoid too many boxes, we add brew packs to the Keg Box by using an overlay box.
Appliance= one per package
Starter Pack= one per package
Brew Pack= one per package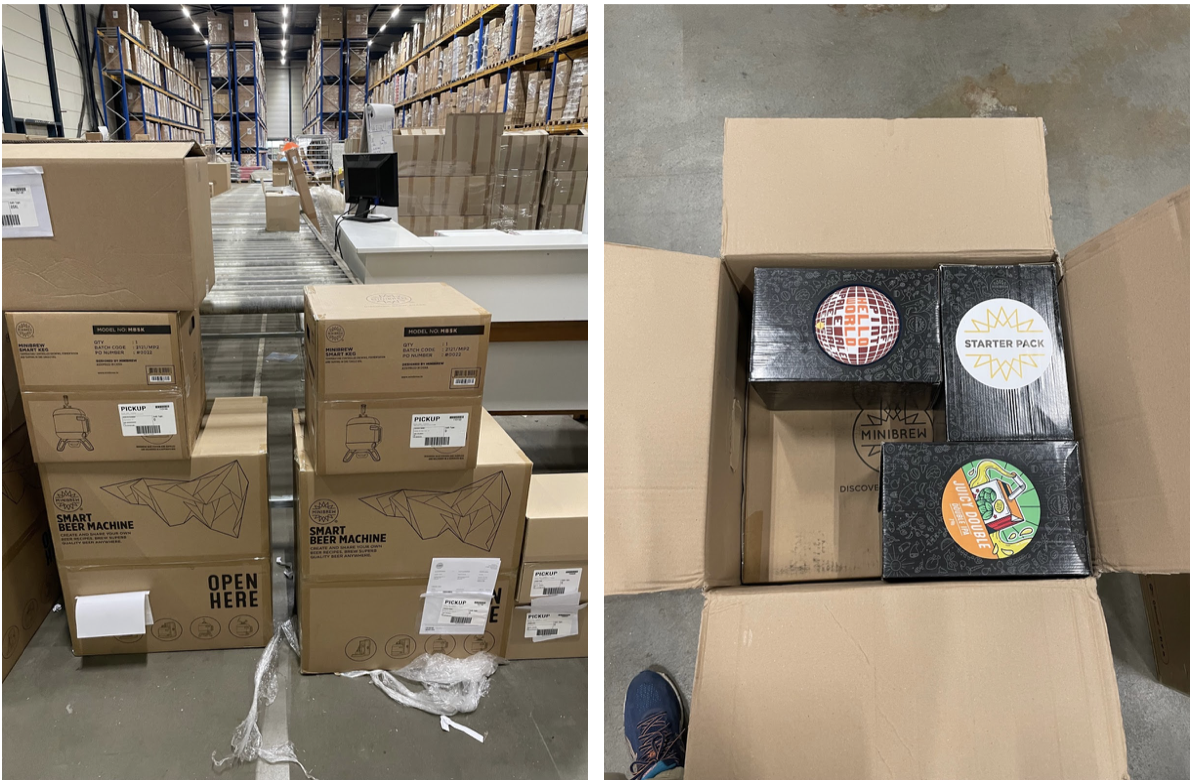 Craft Pro (Craft + Keg shipment) Keg package that includes Brew Packs
How do I track my shipment outside of the EU?
Any order that needs to be shipped outside the EU will need to be processed through customs. Customers will experience additional delays when orders must go through customs.
When our warehouse finished the packing You may receive a number with your order that begins with "PU". This is not your tracking number. Once customs clears your paperwork, you will receive a tracking number within about 72 hours.
Import Duties - Outside of the EU
Per EU law, purchases being shipped outside of the EU will be taxed by customs, not MiniBrew. Countries outside the EU included the UK, Norway and Switzerland. Customers can search information about these rates through their own country's government websites.
Tax charges will depend on the total value of your order, and the tax rate for your country. DHL or PostNL should notify you of any tax requirement once your package arrives in your country.
For more information, please check out our help center article.
New Brew Packs
Our ingredient partner is facing delays of specific hops that are ordered. No need to worry, we are replenishing your favorite Brewpacks.
Back in stock- The Icelandic Pale Ale, and Trajectium Triple
Coming soon- The Hainut Saison, Gulden Craen, Bonfire, Don't leave me this Way, Hopfenweisse, Hazy Daze and the Stapzwan Porter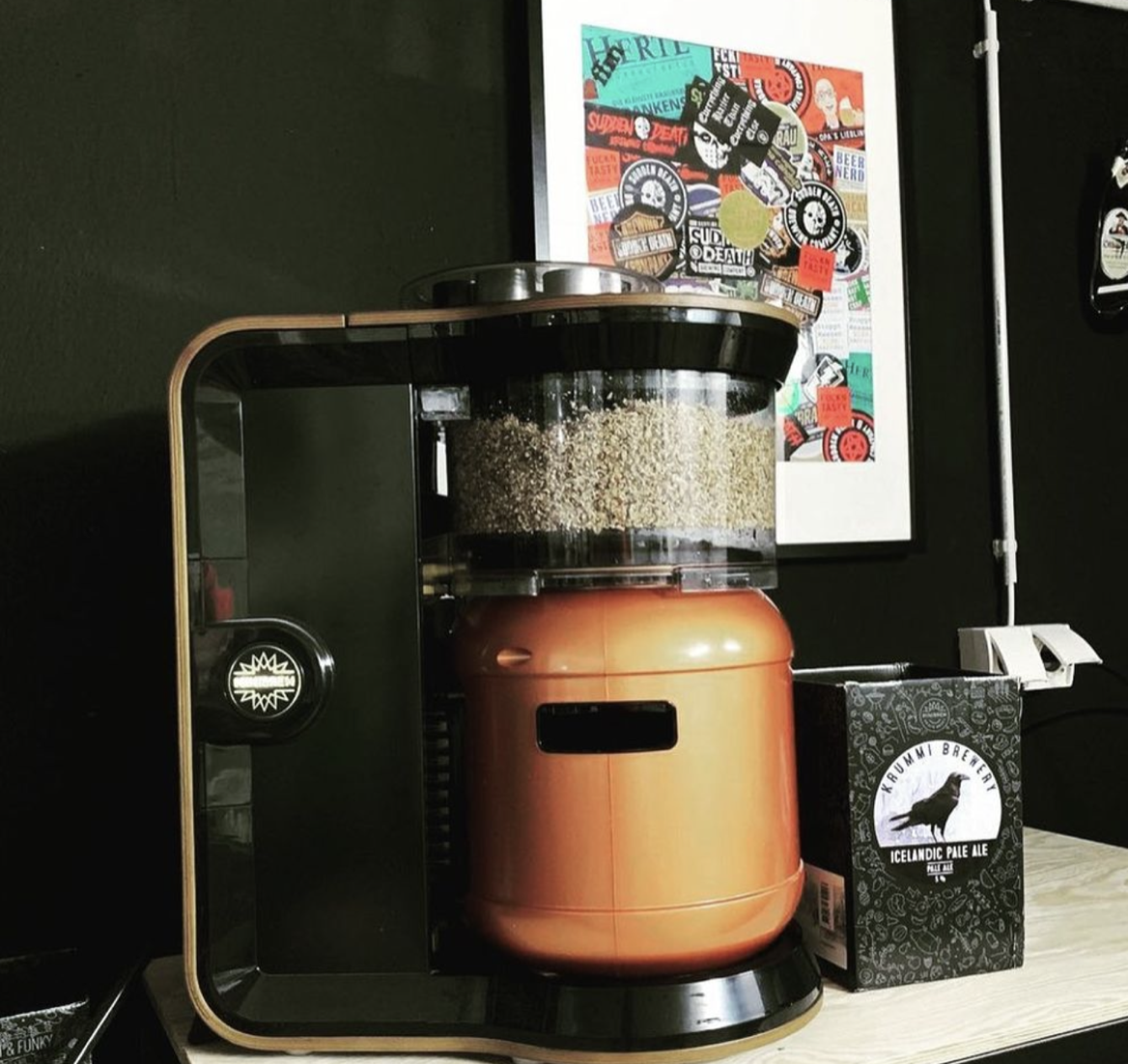 Software update
Our software team has been working in a steady way to introduce new features based on your customer feedback.
App updates
Water amounts are now presented with one decimal place instead of two
Link to reach our Technical Support Team
We don't want you to waste beer! New user-friendly warning system is in place to prevent user error in the brewing process.
Pro-membership
You can now receive notifications on your operating system to tell you when action is needed during the process. Turn this feature on and off by clicking the bell icon
You can now go to Settings to view and manage your Pro Membership
Improved experience when editing your profile and changing your password in the Settings menu
The button to activate a coupon code was made visible again
Water amounts are now presented with one decimal place instead of two
The maximum temperature is now more appropriate for tapping beer and prolonging the life of the Smart Keg (12 degrees C)
You can now view your custom ingredients via the menu in your mobile browser
Fixed a bug where the MiniBrew logo would sign you out. Users reported this was annoying.
Clarified temperature readings
What's next?
Improve push notifications when action is needed
Improve the instructions on how to set up your wifi to the machine
User control of fermentation schedule
Android App
Free Pro-membership months
Some who have purchased a GEN 2 Pro or Pro+ via a retailer may receive access to a Pro-membership for an extended period of time. Please note, you will still pay for one month of a pro-membership to receive free months. Here are the steps to do this:
Go to pro.minibrew.io and create an account
Please choose the paid monthly term to create a membership (a free trial is not recognised at this point)
Once a membership has been created, please send us an email with your order confirmation
We will add the free months at that time
The free months will not be immediately visible on your account, but they will be credited before you are charged the full amount for your first month.
If you are already a member, you can extend your membership on pro.minibrew.io . If you are not a member and lost your activation coupon, please follow the above four steps.
Android App
One of the most requested feature and it's happening. For real. Our goal is to have a working version for BETA users in end of 2021, early 2022. The Android is an improved version compared to the iOS version, since customers can buy recipes. Here is a sneak peak of the look and feel.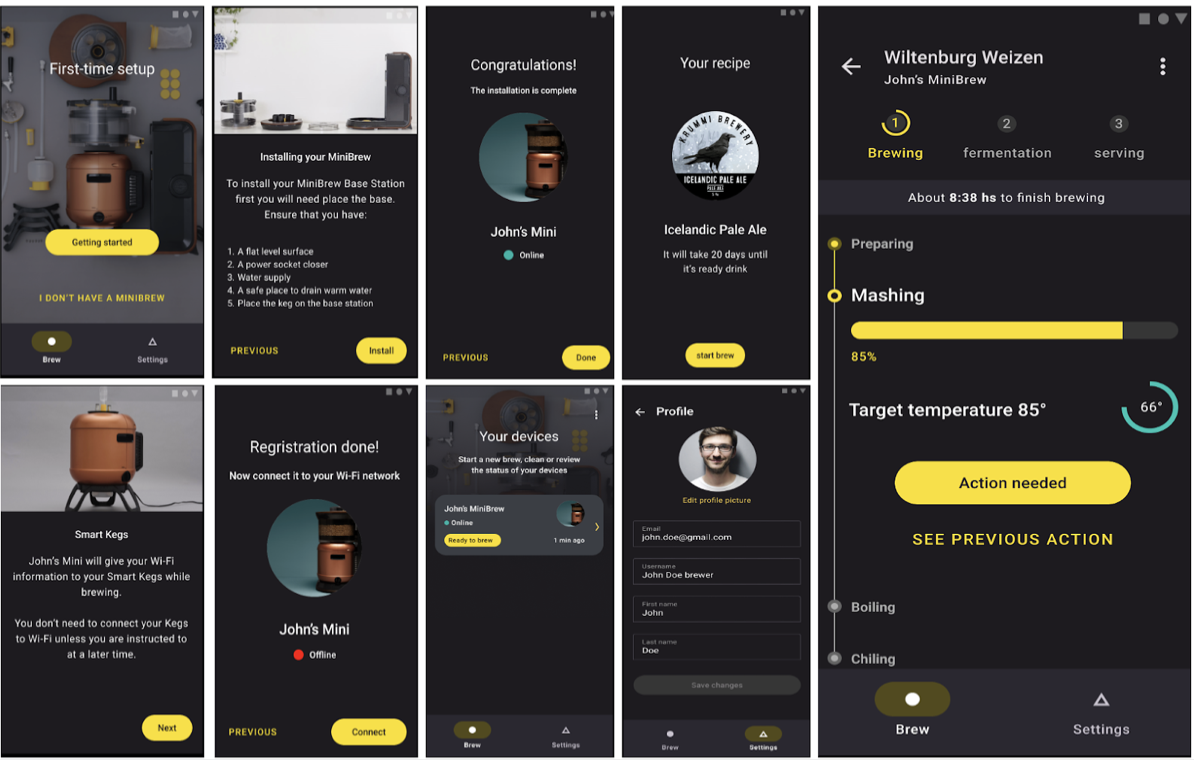 Android screens


Differences between the GEN 2 vs 3
We noticed that more people want to know the difference between the latest model (GEN 3) and other models. Your thoughts are heard.
Our manufacturing team is working on the development of Generation 3 (GEN 3). The GEN 3 will be our first entry beer brewing model starting from 799 EUR. The GEN 3 has been improved based on user feedback. We improved the hop gear and the mash tun which more frequently broke in Gen 1. Plus, we're switching from premium materials to premium looks without losing the beer quality of previous generations.
For example, our engineering team is looking into different materials that look like wood. The stainless steel tap will be replaced with a plastic variant that's often used by our users. This justifies a lower price point.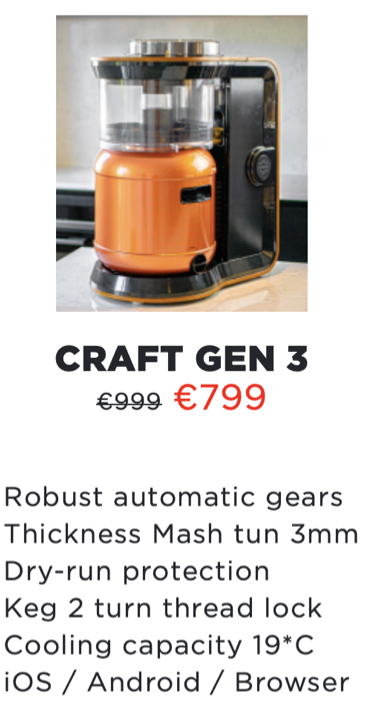 The keg that comes along with the GEN 3 will likely have improved cooling performance as our objective is to stretch the cooling performance. The current Smart Keg 3.0 has a cooling performance of 17 degrees and unofficially 19 degrees in some cases when the environment temperature is in ideal conditions. With GEN 3, our objective is to create stability in the performance leaning to the 19 degrees side.
Currently, we've a limited promotion for only EUR 799 in our shop.
Upgrade options
That said, we will improve our accessories offering so you can upgrade your entry model with better taps or other items. In particular, the team has been working on a tap with improved flow control.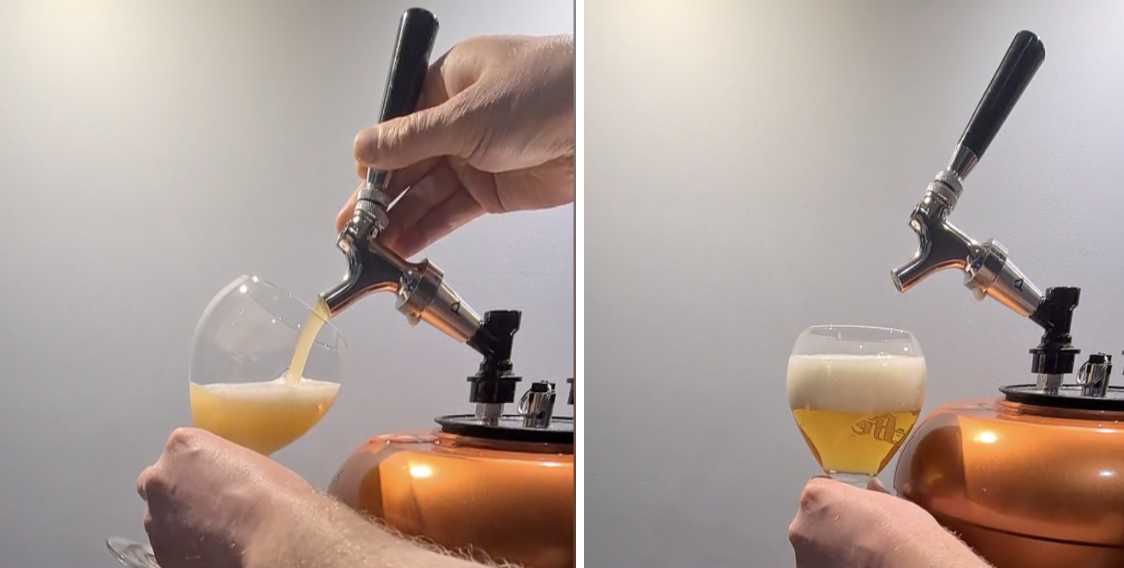 Tap with flow control
Warranty + maintenance package
All machines (Beta version and up) come standard with a two year warranty package. The moment starts when you've received it. Many people received their machine in November or December 2019.
If something breaks down two years after you receive your item, we need to charge you for a repair. The costing of picking up your machine, fixing it and shipping it back is easily around €100 for each issue.
Instead of paying as you go, we offer the Peace of Mind Maintenance Service (€139 inc VAT) and Peace of Mind Maintenance + Replacement Service (€219 inc VAT).
Both packages come with an extension of your warranty coverage for 3 years and priority support, as well as tips about brewing, using other materials, and coverage of repair costs. The Replacement Service includes ad-hoc maintenance checks and a replacement package of parts that get discolored after a number of 25 brews. Both packages can be found in the Brew Gear section of our shop.
Team expansion
Want to join the MiniBrew team? We are hiring locally for our Customer Experience Role. If the person you recommend stays on for six months , you will receive 2 complimentary Smart kegs as a thank you.
Next update
In the next update, we will share a working prototype of the Android App, what's on the roadmap for software and which new Brew Packs we're going to add. We hope you enjoyed this update. Please share any feedback/thoughts in the comments. Thank you as always, and happy MiniBrewing!
Cheers
MiniBrew Team